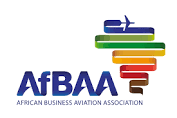 The African Business Aviation Association (AfBAA)
to become a member of the International Business Aviation Council (IBAC)

The 15 member associations from around the world represent a coordinated voice for business aviation and the international standards, policies, and best safety practices that are at the core of IBAC's mission.
"We are excited to have the AfBAA join IBAC," said Kurt Edwards, IBAC's director general. "Our goal is to serve the diverse needs of business aviation around the globe, and this expanded representation from Africa is a significant achievement. We look forward to working with the outstanding AfBAA team, along with our exceptional, long-standing member MEBAA, to fully support the entire continent of Africa and its business aviation future," added Edwards.
AfBAA is a not-for-profit organization that was inaugurated five years ago. It aims to promote the understanding and benefits that business aviation provides to Africa's economic development and prosperity. AfBAA is committed to identifying, addressing and implementing solutions across a range of critical issues in support of the sustainable growth of the industry. To this end, it supports enterprises, entrepreneurs, business leaders, governments, and their respective civil aviation authorities across the continent and assists international companies in establishing African operations.
"Joining the IBAC family is an important step for our organization. Working with IBAC strengthens our role with policy makers to influence decision-making in Africa, which will accelerate the growth of business aviation. It also enables AfBAA to better share knowledge with members from our fellow associations, which will support their members' operations in Africa, " said Rady Fahmy, CEO of AfBAA.