Concord-Padgett Regional Airport/KJQF, North Carolina, earns IS-BAH Stage 1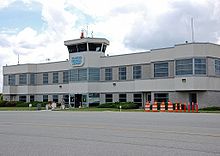 Concord-Padgett Regional Airport
has announced that it is the 174th
IS-BAH Stage 1
registered airport & second FBO in North Carolina.
Because of the multiple race teams that base aircraft fleets at KJQF & its close proximity to Charlotte Motor Speedway, the airport is sometimes referred to as "NASCAR's Airport."
In April, 2018, the airport was renamed to honor longtime Mayor of Concord Scott Padgett.