London Oxford scoops 'Best Innovation in Business Aviation' accolade for 2nd time at prestigious Sapphire Pegasus Awards
The London Oxford Airport/EGTK and Oxfordjet FBO team was in celebratory mood at the third annual European Sapphire Pegasus awards held during the EBACE convention in Geneva when they were awarded the accolade of 'Best Innovation in Business Aviation' for the second successive year.
The award was accepted by James Dillon-Godfray, London Oxford Airport's Head of Business Development from Cdr. Bud Slabbaert at an awards event at EBACE, together with international business aviation professionals.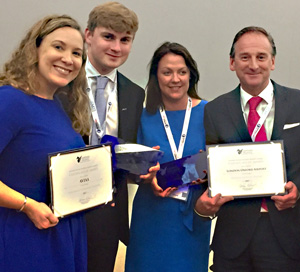 London Oxford Airport's Head of Business Development James Dillon-Godfray far right celebrates with fellow winners from AVIAÂ - Gillian Hayes, CEO (left); Cameron Dillon-Godfray, Sales Executive and Stacey Tucker, Finance Director