Reconstruction of the Road to FBO RIGA is now completed
PRESS RELEASE: Reconstruction of the road to FBO RIGA facility is now completed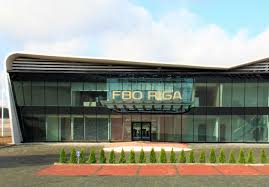 Reconstruction of the Marupe region road infrastructure project at the Riga International Airport has been completed. The road connects the C-13 road going to the airport to Dzirnieku street, where FBO RIGA is located.
The project "Development of Infrastructure Necessary for Development of Business Activity in Marupe" consisted of several stages and was performed under support of the European Regional Development Fund. The project ordering customer was represented by the Marupe Council.
Condition of the road infrastructure by the moment of the start of the project realization did not allow to provide its safe and comfortable exploitation. Both private and commercial transport drivers and pedestrians suffered from inconvenience.
Under the project there was performed re-equipment of more than one kilometer of the road, provided the missing at the start of the project lighting, and also constructed ways for pedestrians and bicycle riders.
The result of the project is the development of the road infrastructure located around the larger airport in the Baltic states, and an opportunity for business aviation passengers to get to FBO RIGA Business aviation terminal safely and with comfort.