Signature Flight Support - Las Vegas FBO Renovation/KLAS
SEP 13, 2018
Signature Flight Support announced today that it completed the renovation of its Las Vegas, NV, FBO at McCarren International Airport (KLAS).
The complete interior renovation of the 7,786 sq. ft. facility includes modern pod-configuration customer service representative counters, customer lobby and lounge area, new amenity bar, crew lounge, quiet rooms, restrooms, conference rooms, café, business center and management offices.
Commenting on the renovation, Tony Lefebvre, COO for SFS said, "Signature Las Vegas is a key location for Signature and this renovation enhances the location's ability to provide a world-class, exceptional customer experience. We are dedicated to investing in our facilities across the Signature network with several new facilities or renovations currently in progress. Our commitment to sustainability is demonstrated in every project that we complete. We look forward to welcoming our customers from around the globe to the new and improved Signature Las Vegas."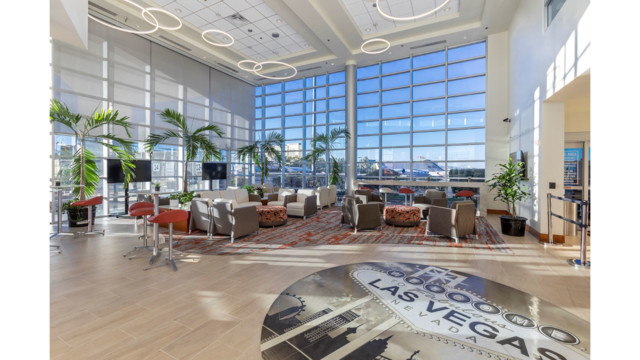 Signature Flight Support's current network of 199 locations was recently supplemented by the acquisition of Epic Fuels which added over 200 additional locations within its branded network.