The Paragon Network™ Receives 2018 Best Aviation FBO Networking Services Provider Award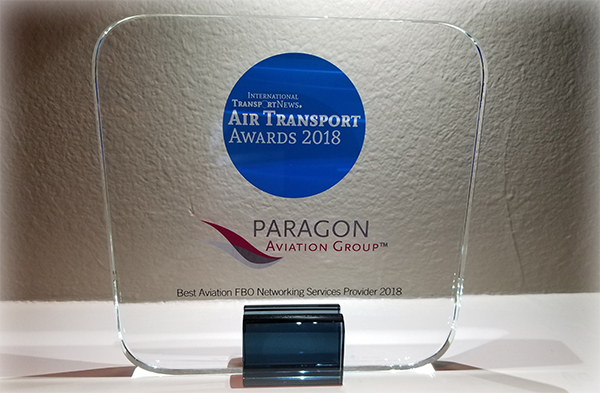 Each year, International Transport News opens voting to general website traffic and their readership base of over 59,000 worldwide. They run an extremely methodical process to choose the winners. Once nominees have been submitted, each firm is notified and required to fill out a tailor-made questionnaire. The award research team then begins the process of conducting their own investigations into the nominated firm to determine the winner.
"Here at Paragon Aviation Group®, we have integrated the latest technology into each program we utilize," stated Megan Barnes. "We have a state-of-the-art CRM and marketing platform that allows us to track opportunities, analyze customer activity and put together a plan of action for those who are engaging on a regular basis. Being a small organization, we rely heavily on technology and the efficiencies it provides for our customers."
"Since inception, we have seen significant consolidation of FBOs in this industry. This has increased the need for a network like ours," continued Barnes. "Over the past 7 years, we have created many tools to help the independent FBOs at an affordable price. Our model has evolved, but our goal remains the same – we are here to help our members grow their businesses. Every FBO we work with is unique, therefore our program can be customized to allow for flexibility in our offerings, which has been very well received."
"Moving forward, through the recommendations and support of our FBO Advisory Board, we will continue to adapt our service offering to meet the ever-evolving needs of our clients," stated Barnes. "In 2016, we added our first member outside North America. Last year we formed a strategic partnership with Luxaviation Group and will add the ExecuJet FBOs to our Network in the coming months. Significant growth to our FBO Network outside of North America provides additional benefits, not only to our Member FBOs, but also to operators who utilize The Paragon Network™. Now operators can count on the same incredible safety standards, service level, and offerings they have grown to expect through our world-wide network of FBOs."
The Paragon Network™ is a distinguished membership of independent FBO's that provide an elite experience to general aviation travelers around the world. Paragon Aviation Group® performs a comprehensive audit of the facility and services offered to ensure the quality of the member base before any FBO joins The Paragon Network™. Each member FBO must comply with a set of strategically developed core standards to remain in the group. Paragon Aviation Group® facilitates The Paragon Network™.
Paragon Aviation Group® is a family business comprised of Mike Delk, Megan Barnes and Molly LeBlanc. With their combined industry experience of over 75 years they have introduced an exciting new industry platform for premier aviation service providers.