Asia Corporate Aviation Management achieve IS-BAH Stage II
Asia Corporate Aviation Management Pte.
(ACAM) achieved
International Business Aviation Council
(IBAC
), International Standard - Business Aviation Handling
(IS-BAH) Stage II late December.
ACAM specializes in aircraft management, CAMO, trip support & ground handling across the Asia-Pacific Region and is strategically based at Seletar Airport, Singapore. ACAM were aiming to achieve the IS-BAH standard as a follow on to their success with IS-BAO Stage 1.
The company earlier completed NATA Safety 1st Aircraft Marshalling online training modules at the NATA Safety 1st Training Center for its ground support team.

Joshua Maniar, Flight Operation Manager, explained "Delivering safe, efficient and top-class service to our clients has always been a cornerstone of our business. Achieving IS-BAH Stage II is a major part of our vision to provide outstanding service."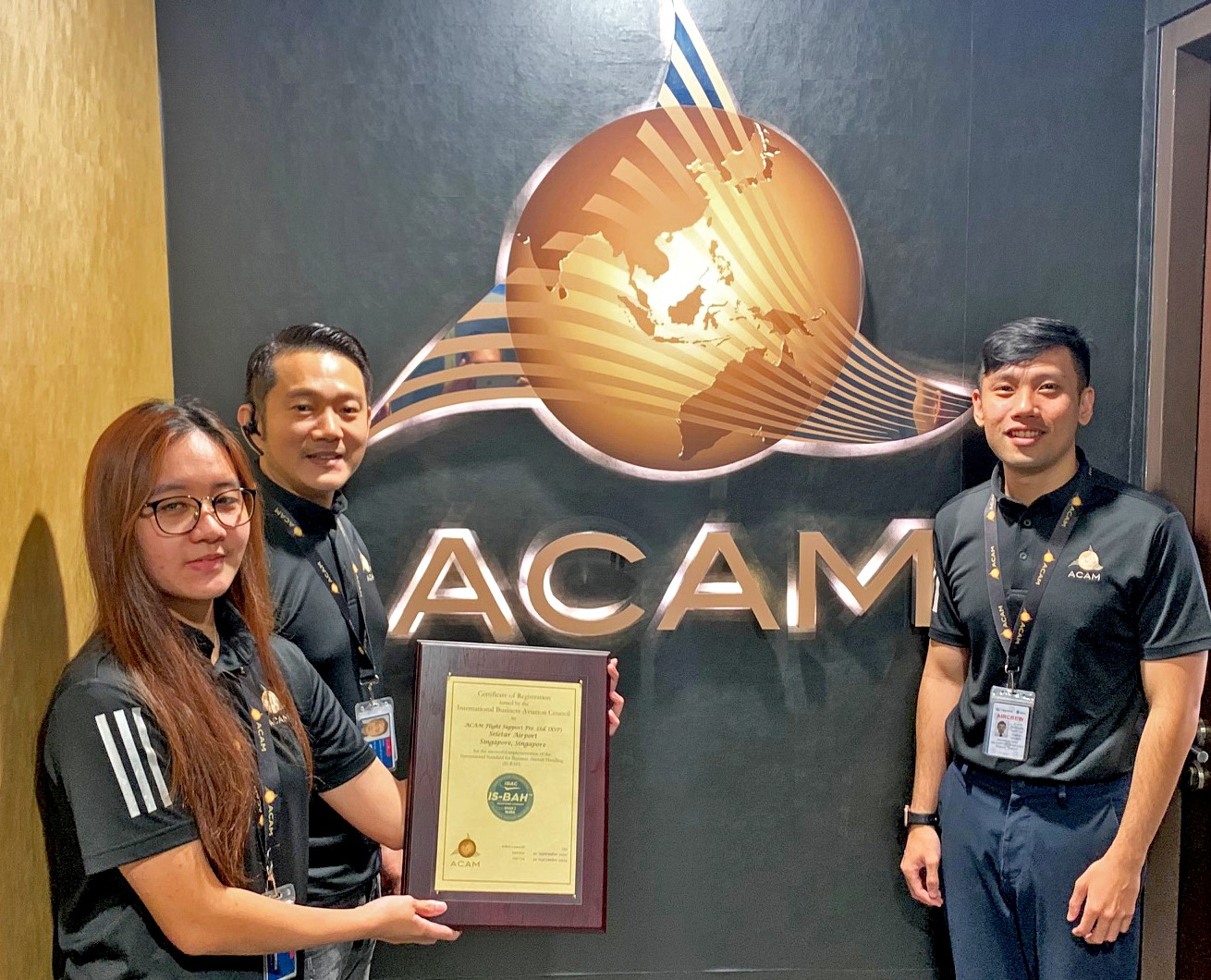 Proud members of the ACAM Flight Operations Team, En, Adven Lee and Shahridan Heng with their IS-BAH Stage II Certification


CEO Darren Broderick says "ACAM, listed in the Top 20 Operators by Fleet for the region, have since their establishment in 2010, strived to attain the best professional standards in the business aviation sector.
The company is the largest, privately owned, corporate aviation management company in the Southeast Asia & Pacific Region. We provide clients with a range of bespoke services from full "Turn-Key" Aircraft Management solutions through to basic aircraft operations and maintenance support services."
Asia Corporate Aviation Management currently operate a fleet of corporate aircraft types including Gulfstream & Bombardier large cabin, Airbus & Boeing Business Jets, Embraer, Hawker and Beechcraft.