Banyan's 40th Anniversary Customer Appreciation Open House
On Saturday, September 14, 2019,
Banyan Air Service
at Fort Lauderdale Executive Airport will be celebrating 40 years in business with a customer appreciation open house.
Congratulations to Don & The Banyan Aviation Team on four decades of providing truly outstanding FBO & MRO service from Global FBO Consult !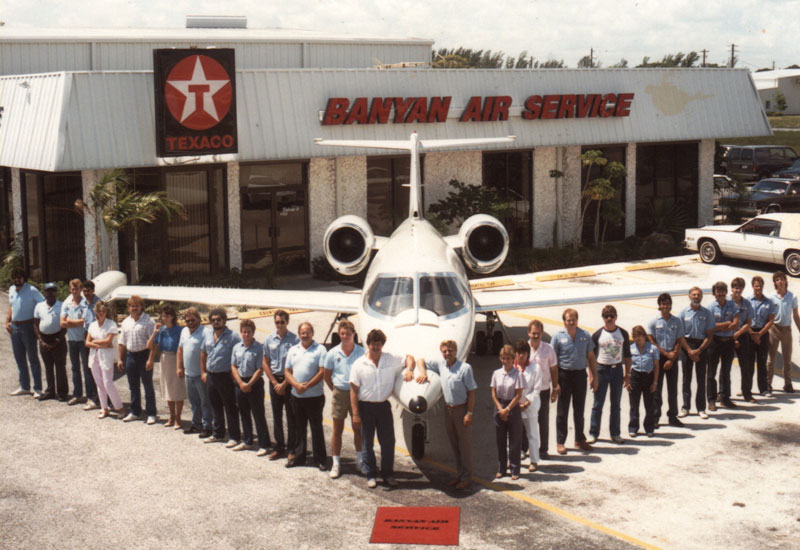 Activities will include tours, exhibits, demonstrations, static display,
family entertainment, food and drinks.
Giveaways
Aero Detail – Special drawing for aircraft detailing services (enter at Aero Detail booth)
Alpina Watches – automatic Swiss watch, the Alpina StartTimer Big Date
ATP – 2 hats/2 shirts
Avfuel $400 fuel (enter at front desk ipad or Pilot Shop ipad)
Aztec Worldwide Airlines – 1 way ticket to Eleuthera Bahamas
Bang Energy – bag pack with product samples and goodies
Banyan – Various items from Pilot Shop
Chamberlain's Cottage Rentals – A 1 bedroom cottage 2 nights stay, at Chamberlain's Cottage Rentals. On Staniel Cay Exuma,Bahamas Courtyard Marriott Ft Laud East/Laud by Sea – 2 free night/breakfast for 2
FXE Airport-swag bag/basket
FXE Flight School – into flight lesson (enter at his booth)
Garmin – SWAG
Go Rentals – 3 day luxury car rental
GoPro – Hero 7 Black
Hampton Inn- Complimentary 1 night stay
Leatherman – Leatherman Products
MyGoFlight – Flight bags
Print Basics $50 WAWA gift card
RayBan – Sunglasses
Sheltair – Ipad
Sheraton Suites – 4 lunch gift cert and 2 dinner gift certs
Steven Greenwald – framed Frank Martin artwork on canvas
For 40 years, Banyan have recognized the importance of giving back to the community. By sharing our blessings, we can make a difference in the lives of others. Below are two of Banyan's corporate charities that we proudly support. If you would also like to help in these efforts, your contributions would be greatly appreciated.