FBO legend Graham Stephenson flies west
Yesterday, Bluesky Business Aviation News reported the sad passing of Graham Stephenson at the age of 84. I have had the pleasure of knowing Graham since 2013 & have enjoyed many a long distance chat about our industry, past & present. I have enjoyed his stories & at times been the recipient of his sound his advice. My condolences to Graham's family on their loss of such lovely gentleman. Rest in Peace Graham.
Bluesky Business Aviation News ran a lovely editorial tribute to Graham in their October 26th issue & I post it here as I could not do better myself. My thanks to Bluesky Business Aviation News editor, Tim Harlow.

Joe McDermott - The Ramp Blog
"The aviation industry has lost a prolific and popular colleague with the departure on October 19th of Graham Stephenson, aged 84.
Graham enjoyed a near 60-year diverse career in aviation, working in operational and development roles for companies including British Airways, Luton Airport and Jersey European. However, it was his exacting work and devotion to developing high standards of operations and safety at FBOs around the world, that won him much deserved recognition and respect among his peers.
His aviation career started with a RAF scholarship, where he learned to fly the Tiger Moth and Chipmunk. Graham achieved a PPL at 17, well before he passed his driving test.
Originally joining BEA/BOAC as an apprentice, he spent 21 years at British Airways, latterly as country manager, based in Moscow and then British Air Tours at London Gatwick. His first business aviation role (with Jet Aviation) took him to Saudi Arabia.
A story Graham enjoyed recounting was in 1993 when BA launched a series of Concorde flights between London Heathrow and Jeddah. As COO of Jet Aviation, instrumental in helping establish a new FBO at the Saudi airport, BA agreed to put him and his family on an empty, positioning flight from Heathrow. It was the ultimate positioning flight he recalled, because it delivered him direct to his office door, in three hours.
Graham worked with ExecuJet Aviation Group in the the mid 2000s as Head of FBOs, helping them establish new facilities around the world. He stayed on with the group in a consultancy role helping establish the first FBO at Cambridge City Airport (for ExecuJet and Marshall) and an executive lounge at London City Airport's Private Jet Centre when entrepreneur Dermot Desmond, one time co-owner of ExecuJet, acquired the airport.


He was especially pleased to oversee that project, having formerly worked for London City Airport tasked with developing its Jet Centre. While working there (in 2004) he was allowed to fly his Cessna 172 in and was pleased to enter LCY in his pilot log book.
An IBAC, IS-BAH endorsed auditor, Graham visited business jet terminals worldwide to check their safety and best practice handling.
He also enjoyed mentoring young professionals he worked with and was proud to see their careers flourish.
One initiative he spearheaded was an online training course with London Metropolitan University, designed to be used by FBO staff anywhere in the world.
Recognising his many achievements, Cdr Bud Slabbaert presented Graham with a Lifetime Achievement award during the BA Meetup at RAF Northolt.
In 2017 he was honoured for his achievements in business aviation at the Sapphire Pegasus Awards during CARIBAVIA 2017.
Testament to Graham's passion for business aviation he continued to write insightful commentaries and articles about FBOs for Business Airport International. When he could no longer travel to shows he would send industry friends an email as soon as the event finished, eager to know the highlights.
After hearing about the outbound airport experience to Geneva for EBACE 2022 Graham wisely replied, there must be a lot of recently retired staff who would be prepared to go back and help out. He also cited a former British Airways' venture, Speedwing, which did just that.

Graham leaves a widow Ludmila and a commercial pilot son, Alex. Most recently Alex was flying with Flybe 2.0. Currently he is in his father's familiar territory working with XLR Jet Centre in Exeter. Funeral details will follow."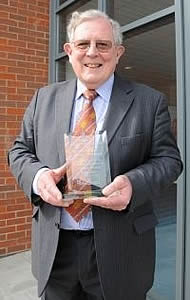 Graham Stephenson
Rest in Peace