IBGAA returns to Adare Manor for second annual business aviation and luxe tourism conference
1st November 2023, Adare Manor, County Limerick, Ireland
Sustainability tops the agenda
The Irish Business and General Aviation Association (IBGAA) www.ibgaa.com is looking forward to welcoming over 140 industry delegates to its second annual conference on 1 November 2023, when it returns to Adare Manor, Limerick. Its unique formula – the combination of executive aviation and luxury tourism, in the most spectacular setting, returns with a topical agenda delivered by accomplished international and regional speakers.
Ireland's Minister of State for Transport, Environment, Climate and Communications, Jack Chambers, will deliver the opening keynote. He will be followed by Declan Fitzpatrick, Chief Executive of the Irish Aviation Authority, which is lending its support to the event.
Sustainability will be a prominent theme with principal sponsor Gulfstream Aircraft's Charles Etter, Staff Scientist with responsibility for Environmental Strategy & Regulatory Affairs, chairing an early session on 'Navigating aviation's dynamic path to efficiency and sustainability.' He will be accompanied by Stewart D'Leon, Director of Environmental and Technical Operations at the USA's National Business Aviation Association; Alexander Kuper, Vice President, EMEA of Neste and Nicola-Jane Sellers – Group Sustainability Manager at Luxaviation Group.
What's new in air charter?
IBGAA will evaluate on-demand, air charter– ad hoc, pre-paid fractional and pre-paid jet cards - at a time when aircraft choice has never been so broad and when activity in mid-size cabins continues to grow. Doug Gollan, Founding Editor of Private Jet Comparisons, will lead a panel of experts, including Julie Black, Head of the UK based Executive Charter team at Hunt & Palmer and Air Charter Association Deputy Chair; Andy Priester, Chairman & CEO, Priester Aviation / Mayo aviation and Dan Cook, Sales Director of Fly Victor.
Industry Update – the numbers
Jetcraft's Colin Dunne, in his newly appointed role as US Sales Director, will provide an indepth update on how the industry is doing.
Special guest MEBAA's Ali Alnaqbi joins speaker line up
The one-day event will highlight activity of other aviation associations. IBGAA welcomes Robert Baltus, COO of the European Business Aviation Association; Kevin Ducksbury, chair of The Air Charter Association; Doug Carr, Senior Vice President, Safety, Security, Sustainability & International Affairs – National Business Aviation Association, Kurt Edwards, DG of IBAC and special guest, Ali Alnaqbi, founding Chairman of the Middle East Business Aviation Association and Chair of the IBAC Governing Board
As innovation and technology abounds in business aviation this event will address how the sector can learn from other peer groups in a panel session led by Corporate Jet Investor's Yves Marchand, with Graham Williamson, President of ACASS. Technology entrepreneur and aviation technology consultant Diego Magrini leads a panel on AI and how it is impacting aviation.
IBGAA's Chair Josh Stewart will explore opportunities for business aviation in Ireland and why, as a world-renowned aircraft leasing epicentre, it is a smart choice for establishing a business. One case study is Alliance Group's - Dave Scully, Vice-Chairman – IBGAA & Chief Operating Officer.
The 2022 IBGAA event was lauded by attendees last year as being among the best new additions to the aviation calendar. Testament to its success is the number of repeat sponsors secured. Among them are Gulfstream, Jetcraft, Jet Aviation, Global Jet Capital, Shannon Airport Group, ACASS, Argus International, Private Jet Media, Weston Airport, and JSSI. Newcomers include Rolls-Royce, Signature Flight Support, Aelia Assurances and Martyn Fiddler. In the luxury sector, By Appointment DMC, WP Exclusive Luxury and Failte Ireland complement business aviation names. Other sponsors are Alliance Group and Unifi (the new parent of Up and Away Aviation).
"We are delighted to be returning to Adare Manor to offer unsurpassed networking between business aviation and ultraluxe tourism professionals. We will have plenty to talk about and learn from both sectors and we look forward to aligning on business opportunities," said IBGAA Founding Chairman Josh Stewart.
"This is brilliant event to attend for senior decision makers in business aviation, with its audience of corporate jet operators, private aircraft owners, charter users from various sectors (MICE, sport and entertainment), tourism, airport and luxury hoteliers."
Ranked Conde Nast Readers' Top Resort in the world (2022-2023) Adare Manor offers its guest an exceptional experience.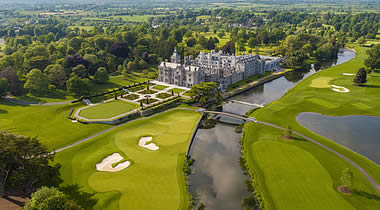 To register for the event, please click on the following link:
https://col.eventsair.com/ibgaa-2023/registration/Site/Register
Editor's notes
The Irish Business and General Aviation Association was formed in September 2020 with members including leading Irish resort venues and lifestyle brands. It has since grown to 33 members.
Its board comprises:
Josh Stewart, Founding Chairman of IBGAA, Founder & CEO of XJet® and Robusto Capital, IBGAA Representative on the International Business Aviation Council (IBAC) Governing Board and a veteran of the aviation industry for more than 30 years.
Dave Scully is the Founding Vice-Chairman of the Irish Business & General Aviation Association (IBGAA) and Managing Director & Accountable Manager at Private Sky, Shannon-based leading corporate aircraft management company. A stalwart of Irish business and general aviation, Dave has close to two decades' experience in aviation operations at senior management level. He previously held the position of Director of Operations at Dublin-Weston Executive Airport and was also the founder of AEM Limited Aviation Consultancy.
Joe Buckley is the Founding Executive Director of IBGAA. An aviation industry veteran, with over 40 years' extensive experience working for Shannon Airport, Joe has held several executive roles within airport operations and business development. He is a member of the EBAA's Advocacy Committee and the Irish representative on the Council of European Business Aviation Associations. An early advocate of extending US preclearance to business aviation, Joe played a key role in the subsequent opening of the world's first US preclearance facility in Shannon for business aviation.
Keith McKay, Founding Member, is Operations Manager & Business Development Manager at Woodgate Aviation, the Belfast International Airport-based fixed wing air ambulance operator, private jet management company, charter broker, FBO and general aviation maintenance provider.  Keith joined Woodgate Aviation in 2012, after 14 years in the airline sector, bringing an in-depth knowledge of operational and service delivery. He is credited for increasing Woodgate Aviation's brand awareness via social media platforms, marketing campaigns, introducing a new company website and organizing and promoting successful local business aviation product placement and showcase events in Northern Ireland.
Kenneth Fielding is General Manager for Signature Flight Support in Shannon. Signature Flight Support is the world's largest Fixed Base Operator with over 200 locations worldwide including Shannon and Dublin, supplying essential support services for business and private aviation including ground handling, refuelling and a variety of other world-class amenities. Kenneth began working for Signature in 2005 as a customer service representative, becoming Operations Manager in 2014. In 2015 he was promoted to General Manager for the Shannon base. In his current role, he handles day to day activity, delivering a consistent premier service to Signature customers while supporting a strong safety culture.,
Angie Deady-Fiddler is a director of Martyn Fiddler Aviation based at their Irish office. Angie oversees and manages customs businesses in Ireland, UK, Isle of Man and the Netherlands. Having previously worked extensively in customer service roles and administration services, Angie joined the business in 2000 and has led the customs team for over 20 years, growing it to be a globally recognised brand within the business aviation sector.
Liam Murphy is General Manager for Universal Aviation based in Shannon Airport, Ireland. Headquartered in Houston, Texas, Universal is a leading Trip Support Services specialist for business aviation operators with a multi-national, global client base. Liam has over 20 years' aviation experience, primarily involved in business aviation sector, including roles in Customer Service, Safety & Training and Operations. As part of his experience, Liam spent a number of years as the Director of Ground Operations for one of Ireland's leading charter operators.
Jim O'Sullivan is founder and Managing Director of Dublin-based EXjets Ltd, which started in 1994 offering leasing and charter flights. The business is 100% committed to providing a first-class personalised service with flying schedules tailored specifically to client requirements.
Alan Nee is a Licensed FAA and EASA ATPL corporate jet and helicopter pilot with extensive operational experience in North and South America, the Caribbean, Middle East, Asia, Far East, Russia and Europe. Past operational roles have included: CEO and Accountable Manager for Premier Aviation Ltd. (Helicopter AOC), CEO and Accountable Manager for Premier Executive Jets. (Jet AOC). Alan has a strong working relationship with Embraer, Dassault, Bombardier, Gulfstream, Airbus, Leonardo, Bell and Sikorsky, having purchased aircraft from each of these manufacturers for resale and leasing.
Peter Costelloe is the founder of By Appointment DMC which has successfully grown an executive concierge business from Ireland to now being present in five countries across two continents. Peter's achievements include logistical planning for a vast array of A list celebrities, government officials and the senior decision makers within large multinational companies. Peter has been involved in the logistical support for four U.S. Presidential visits to Ireland and received a personal thank you from President Barack Obama after his trip to Ireland in May 2011.
Brian Tuohy, I joined ACASS on December 1st, where I have taken over from Russ Allchorne, trying to absorb as much wisdom as possible before he departs to CAE as Training delivery manager. It is a real privilege to take over from Russ and having the opportunity to learn from a true expert. Prior to ACASS, I worked for GainJet on their charter aircraft. Before that, I worked for Emirates, Norwegian, Ryanair, and TUI. I am a lifelong learner and have experience as a TRE/TRI with Ryanair. I took a dip into the academic world and completed a BSc in aviation technology and a Ba in Business and management in aviation. I am currently completing a professional diploma in Airworthiness management at the University of Limerick. I live in Shannon with my wife and daughters. When I'm not keeping busy with flying, you can find me learning how to build walls, operating a JCB and welding. If I can escape the DIY, you'll find me on the Golf Course with similar results to operating the JCB.
Colin Dunne joined Jetcraft in 2019 as a Sales Manager supporting the Northern European and Middle East regions before being promoted to Sales Director in 2023. ​In his current role, he leads sales initiatives in the US Midwest. Since joining Jetcraft, Colin has supported over $1bn worth of aircraft transactions, using modern day sales and marketing strategies to successfully build and maintain relationships and ultimately negotiate and close aircraft transactions. ​Prior to Jetcraft, Colin held roles across the aerospace, energy, and construction industries in a mix of engineering, project management and business development capacities, including a two-year tenure working with aircraft owners, airlines, lessors and MROs at AerData/Boeing.​ Colin holds an Engineering Degree from Trinity College Dublin, an MBA from UCD Michael Smurfit Graduate Business School Dublin and a Certificate in Aviation Leasing and Finance. Colin is originally from Dublin, Ireland and is now based in Chicago, Illinois having recently relocated from Jetcraft's London HQ.
Wayne Pollock is founder and CEO of WP Exclusive Luxury, a very private and discreet luxury travel and lifestyle management consultancy with UHNW clients across the globe. For over 35 years, Wayne has led the business to achieving more industry awards than any other UK independent consultancy in this specialist niche. With clients ranging from Hollywood A listers to captains of industry, his reputation, whilst below the radar publicly, is highly respected by the leaders in high-end travel, hospitality, private aviation, luxury yachts, private islands, and global property. Wayne enjoys enduring relationships with the owners and managers of the best of the best across the globe which he has meticulously forged over almost four decades. It is these relationships, that money cannot buy, that enable him and his team to provide a highly personal, bespoke, and incomparable service to a very select clientele who demand the ultimate in the use of their precious time in both business and leisure. From unforgettable rustic five-star culture experiences to lavish seven-star luxury, WPEL are the best kept secret for those who want the highest levels of integrity, discretion and professionalism backed by the sort of hands-on experience and knowledge that is unashamedly unique in the industry.
Philip Bartlett is the Chief Technical Officer for Shannon Technical Services, a global technical services provider for aircraft owners, lessors and airlines and is based in Shannon, Ireland. Philip began his aviation career as an Avionic Apprentice with Aer Lingus in 1990. During this time, he gained significant experience in a wide area of the airline maintenance and engineering environment including helping to restore the Iolar, a De Havilland DH84 Dragon. Based in Toulouse for a period of time he was responsible for the technical delivery management of several Airbus aircraft to the airline. In more recent times he has held both maintenance manager and CAMO manager nominated post holder positions for a significant Irish corporate jet operator utilising both business jet and helicopter types. In addition, Philip has spent time as an EASA Part 21 Design Engineer and EASA Part 147 Technical Instructor. He was also involved in the importation and continuing airworthiness management of the first aircraft, an Embraer Lineage 1000, to be entered on the Irish EJ aircraft register in 2018. As a Technical Operations Manager for Nordic Aviation Capital, he gained a perspective of the regional aircraft leasing business including managing aircraft deliveries and returns, to and from various international airlines. Now part of the Shannon Technical Services senior leadership team he has established the CAMO department which holds EASA, Cayman Island, Bermudan and Bailiwick of Guernsey continuing airworthiness and Airworthiness Review authority approvals for a wide range of regional, commercial, and corporate aircraft including several helicopter types.
Sean Raftery has more than 40 years of aviation experience, including over 25 with Universal Weather and Aviation, Inc. Based in Stansted, United Kingdom, Sean was previously in the Royal Air Force where he worked in air traffic control. In 2002, he was appointed Managing Director of Universal Aviation U.K. – London-Stansted and in 2010 took on the additional responsibilities as Managing Director of Ireland. Under Sean's leadership, Universal Aviation U.K. – London-Stansted and Universal Aviation Ireland, with FBO locations at Dublin and Shannon, have continued to grow and add new services, including the UK based European Operations Centre. Sean has also been instrumental in Universal Aviation continuing to upgrade its facilities including project management of the complete refurbishment of Universal Aviation U.K. – London-Stansted and the remodeling of Universal Aviation Shannon. In 2020 Universal Aviation opened up at RAF Northolt and Sean took further responsibility as Universal's Director for northern Europe. Well respected within the business aviation industry, Sean has worked closely with government officials to develop and implement industry leading practices and was highly instrumental in influencing the U.K. government for fairer and better immigration procedures for visiting business jet passengers.