Mini Feature: Ferry Pilot Jason Mitchell
Something a bit different - we all meet ferry pilots at FBOs from time to time, I always think they have the most fun of any commercial pilots, every mission different & challenging.
Recently I spoke with Arlington Tennessee (Elvis Territory) based Jason Mitchell, President of JasonAir Aircraft Ferrying.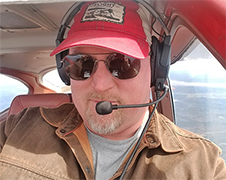 "I recently ferried a very smart looking 1972 build Cessna 177B (fixed gear) Cardinal from Sandusky City, Michigan (Y83) to Independence Iowa ((KIIB) with two stops. The fuel pumps at Y83 were inop, so I flew about ten minutes to Marlette Township (77G) and filled up there.
My second stop was at Bult Field (C56) outside of Monee, Illinois. They have the most grandiose FBO I've ever seen at a GA airport. This magnificent building used to be the home of the founder. The airport is owned and operated by the Illinois Department of Transportation
You can see what goes into ferrying in the video here"

Dont forget to leave a comment and subscribe. Thanks!
CONTACT INFO:
E: Jason.mitchell@flyjasonair.com
T: +1 901 832 3803
W: www.flyjasonair.com/