Renovated Signature FBO opens at Hanscom Field/KBED, Boston
Signature Aviation has announced the opening of its renovated private aviation facility at L.G. Hanscom Field, Boston, Massachusetts.
The opening marks the latest milestone in Signature Aviation's commitment to providing elevated experiences throughout its network while solidifying its long-term partnership with the region's largest general aviation airport.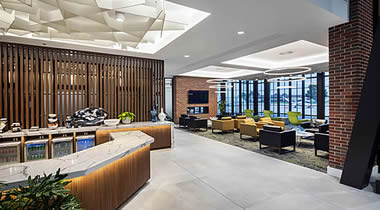 "Hanscom Field is a familiar name for any aircraft operator that frequents Boston or
broader New England which makes it an indispensable part of Signature's Northeast presence," said
Tony Lefebvre, Chief Executive Officer
for Signature Aviation. "Our reimagining of Signature Bedford has really been about delivering the best experience to our customers, down to the smallest details. What we've built takes some of our most innovative ideas to elevate the FBO experience and scale to the rest of our network."
The new terminal at Hanscom Field joins other recent construction projects, including a new build international FBO for Asia-Pacific customers at the Ted Stevens Anchorage International Airport, new facilities in the United Kingdom at Edinburgh Airport and Birmingham Airport, as well as an upcoming facility opening at Key West International Airport and June's ground breaking at the Huntsville International Airport.