Special Alert from Ops Group: Pakistan airspace, India airports closed

Pakistan airspace, India airports closed - 1200z update from
OpsGroup
Hello members!
Thanks
for all the emails, updates, info from your cockpits, crew rooms, and control centers - great work! We've compiled a 12Z update based on the most relevant of these updates. As before, monitor the
info page
for more.
Most notable changes in the last few hours: Kabul FIR closed now also, 400 flight reroutes via Muscat FIR expected as long as airspace remains closed. Map issued.
OpsGroup Situation Map
(Big version here:
https://ops.group/blog/wp-content/uploads/2019/02/Pakistan-closure-reroutes.png
)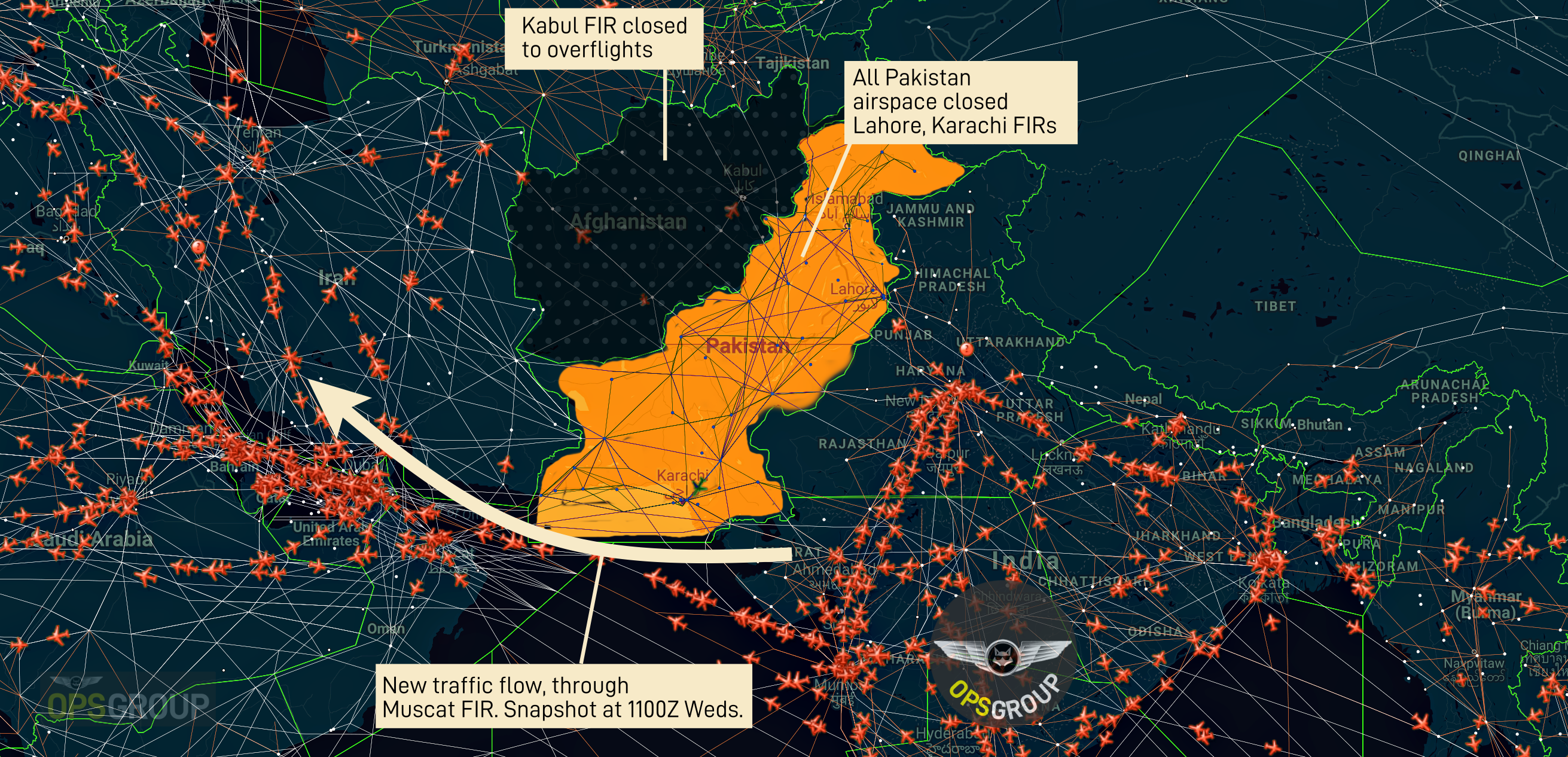 Afghanistan is also not accepting overflights - Kabul FIR closed
G0440/19 NOTAMN Q) OAKX/QARLC/IV/NBO/E/000/999/ A) OAKX B) 1902270800 C) 1905272359 E) KABUL FIR NOT ACCEPTING ANY OVERFLIGHT TRAFFIC VIA ALL AIRWAYS DUE TO PAKISTAN AIRSPACE BEING CLOSED. EXPECT AIRSPACE OPENING WHEN PAKISTAN BEGINS ACCEPTING AIRCRAFT. AIRCRAFT LANDING IN KABUL FIR ARE PERMITTED ENTRY.
Comment: This makes sense as almost all the Kabul FIR traffic flow is south-east/north-west / Europe-Asia. So, since flights have nowhere to go once they reach the border, additional impact of this closure is minimal.

Eurocontrol assessment of impact (via Network Manager)
First impact assessment shows:
-400 daily flights impacted that will be rerouted mainly south west via MUSCAT FIR
-Severe impact on Iran (extra flights) and Georgia/Azerbaijan (lost flights) with more than 100 flights re-routed. Flight through Turkey will come from the interface with Iran instead of to/from Georgia – this should not be a major issue.
-Minor impact on Poland with +/- 20 extra flights
-The choice of rerouting is left to airlines.

Pakistan Airports and Airspace – complete closure
Pakistan CAA has declared the national airspace "closed Until Further Notice" Notam – A0200/19 NOTAMN Q)OPXX/QRAXX///W/000/999/ A)OPKR OPLR B)1902270730 C)1902282359 EST E)PAKISTAN AIRSPACE IS CLOSED.)
India – closed airports VIAR/VIPK/VISR/VIJU/VILH/VISM/VIGG/VIBR
A0181/19 NOTAMN Q) VIDF/QXXXX/IV/NBO/A/000/999/ A) VIDF B) 1902270555 C) 1905272359 EST E) NO FLIGHTS PERMITTED TO OPERATE TO/FROM VIAR/VIPK/VISR/VIJU/VILH/VISM/VIGG/VIBR DUE OPERATIONAL REASONS.

India - further Notams
VIDF A0185/19 27FEB0850-28FEB2359 EST REF NOTAM OP A0200/19 (PAKISTAN AIRSPACE CLSD): ACCORDINGLY, ALL FLT TRANSITING DELHI FIR INTO PAKISTAN AIRSPACE ADVISED TO PLAN THROUGH ALTERNATE RTE AVOIDING PAKISTAN AIRSPACE.
Opsgroup Comment: Nothing additional here, just a note from India to plan routes avoiding Pakistan airspace.
International Routes
Pakistan – all aircraft enroute have been rerouted around Pakistan airspace. No traffic currently overflying.

Why?
The BBC explains it best: Pakistan says it has shot down two Indian Air Force jets. A Pakistani spokesman said one plane had fallen inside Pakistani territory and pilots had been arrested. India however says all pilots are accounted for. It's a major escalation of simmering tensions between the nuclear-armed neighbours and comes a day after India launched air strikes in Pakistani territory, it says on militant bases. The trigger was a deadly attack on 14 February when a militant killed more than 40 Indian troops in disputed Kashmir.
When will it end?
The Pakistan Notam is currently valid until the end of Thursday, the Indian one closing the airports in the north is for three months. A lot looks like it depends on the politics to be played out as this unfolds. For now, avoid Pakistan airspace (no choice right now), and consider routings over India carefully.
If you have further ops info to report, please do! Email us at team@ops.group.

We will keep the information page here updated with the latest: https://ops.group/blog/pakistan-india/